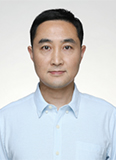 Prof. Bin Zhu
National University of Defense Technology
research experience
Zhu Bin, Ph.D., Associate Professor. The first batch of high-level innovative talents in National University of Defense Technology are outstanding young talents, and they are new teachers in Anhui Province. His main research interests are imaging reconnaissance and information processing. He presided over one National Natural Science Foundation and one Provincial Natural Science Foundation, presided over or participated in many other scientific research projects such as equipment pre-research, among which two achievements were listed in the army, won two second prizes for military scientific and technological progress, and authorized 10 national invention patents. In recent years, more than 50 papers have been published, and more than 30 papers have been retrieved from three major journals; Publish one textbook and one monograph each; Guiding the national college students' photoelectric design competition won one national first prize, and guiding the whole army's military modeling competition won one special prize.
Speech Title:
Intelligent imaging reconnaissance technology
Abstract:
Reconnaissance is the activity of using visual observation or other means to obtain information about the activities and resources of the enemy or opponent, or to obtain data on meteorological, hydrological, or geographical features. It is the main method of obtaining intelligence in peacetime or wartime. Imaging reconnaissance mainly refers to reconnaissance activities carried out through visible light, infrared, radar imaging and other systems, and is an important part of reconnaissance. With the development of artificial intelligence technology, new reconnaissance information processing algorithms represented by deep learning technology have gradually replaced classic algorithms and become the mainstream method in the field of reconnaissance. This report mainly introduces the basic concepts, classic methods and intelligent development status of target detection and target tracking algorithms in imaging reconnaissance.